The Philippines surprised me in many ways. Be it the lack of good local fare in Makati (Manila) or the uncomfortable but exciting habal-habal ride in Bislig, the country left me craving for more. By the end of the trip I was just not prepared to say goodbye; it had become my home.
Awesome moments I lived in the Philippines are:
Habal-Habal
Few things in life are as exciting as the habal-habal ride which we took in Bislig. Habal-Habal is one of the most popular modes of cheap public transport in the country. With only a few modifications done to a motorbike, a habal-habal can seat up to 15 people! When I first saw one, I was fascinated by it but struggled to understand the mechanics of it. I knew I HAD to experience it, so I and Abhinash rode 50 km around Bislig exploring the rustic Philippine countryside on a habal-habal. A few times we came close to falling off it and our backs were severely stiff by the end of the ride, but it was a hell of an experience! I recommended it strongly for everyone visiting the Philippines.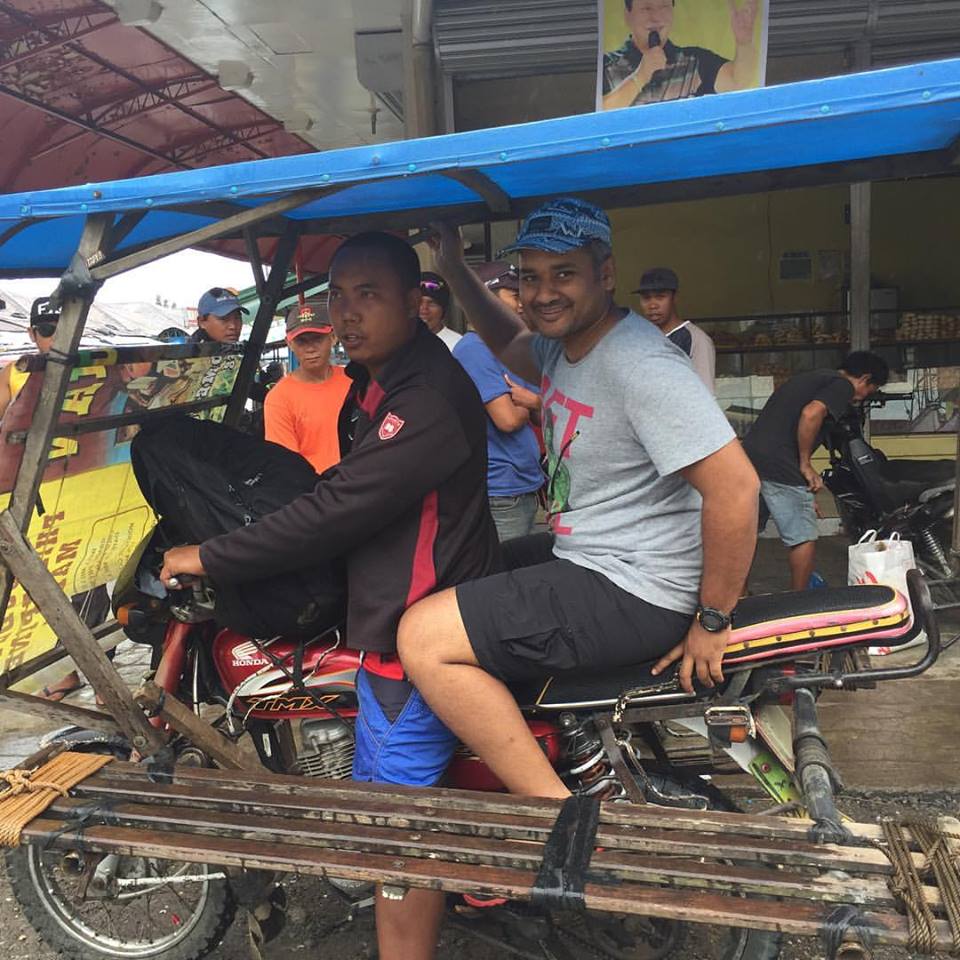 Stargazing in Bohol
Bohol is the land of the world-famous Chocolate Hills, best sighted during sunrise. Our homestay was about 8 km away from the viewing deck, which is atop a small hill. Sunrise is at 5:30 am in Bohol so we started the hike from our homestay at 4 am while it was still pitch black. Not even the street lights were on at that time. After walking for about 2 km, I realized that the sky was bright than usual and looked up to see a splendid view of the Milky Way band over us! It was simply magical. They say that the most memorable moments are the unplanned ones, and I lived it at that moment in Bohol. It was one of the best mornings of my life.
Spotting the bioluminescence in El Nido
Would you believe if I told you that we just chanced upon bioluminescence on a random beach in El Nido? This happened during our stay at Corong Corong beach. We went for a stroll after dinner when it looked like our feet were emitting a strange neon light. So excited was I upon realizing that it was bioluminescence, that I played with the water and sand like a 5-year old for hours! The weird but sweet fact is that the locals do not know that it is an unusual sighting, so they do not advertise it (and I hope it stays that way).
Cooking at a restaurant
Near the end of our trip, while we were in El Nido, we had started to miss Indian food. We had been on the road for about 20 days without eating any spicy food. Noticing this, our kind hostess Kristobel at Telesfora Beach Cottages shocked us when she unveiled a bag full of Indian spices and offered us her kitchen to cook whatever we wanted. Her husband is Indian so she has a good stock of the spices but unfortunately, no one knew how to cook Indian food. So that night, we went to the local bazaar and bought eggs, okra, vegetables and mangoes, and cooked egg curry, fried okra with onions, rice and cut up mangoes. Abhinash said he has never liked the taste of egg curry with rice before that day, so I guess it turned out pretty well. I had never cooked in a restaurant kitchen before, so it was a different experience cooking and sharing the food with the brilliant chefs behind the yummy food we eat at restaurants.
Sunrise at Nacpan beach
El Nido is popular among tourists for island hopping where agents arrange for them to visit 4-5 nearby islands in a single day. Sometimes these small islands can get very crowded and unpleasant so we decided to skip that and explore El Nido's beaches instead. On our second day there, we followed our hostess' recommendation and visited Nacpan beach, famous for sunset at the twin beaches. We decided to go there at dawn instead of the sunset because, well, we had nothing else to do at that time. We reached there at 6 am to a strikingly clean yellow-sand beach with the clearest blue water. It was low tide but a gentle breeze created miniature waves, joyful enough to play with. There was no one else on the beach except us and a few local kids. We had a fun time with the kids telling us that they wanted to be singers. We sang songs in our respective languages (neither understood the other, but it was fun nevertheless. There was a strange calmness about the beach that i enjoyed immensely.